af Kevin Christopher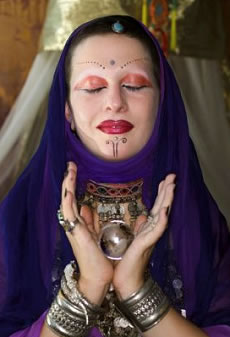 Psychic miss the mark again in 2000
PRESS RELEASE:
Amherst, NY (December 5, 2000)-In the new January/February issue of Skeptical Inquirer, journalist Gene Emery once again demonstrates the dismal record of psychic predictions, Emery, reporter for the Providence Journal and columnist for Reuters has been collecting predictions since 1979 and finds a near-total rate of failure at the end of each year.
This year, among other sources, Emery cites the January 11, 2000, issue of the British supermarket tabloid Sun, which included these 2000 forecasts from "the world's most gifted psychics":
Prince Charles will fly in the space shuttle, where he will announce his engagement to Camilla Parker-Bowles, said "noted British astrologer" Gloria Goldberg. A summertime oil crisis will produce gas station lines longer than 1973, said Italian psychic Pier Rizutto. Two jumbo jets "will slam into each other in the air over the Atlanta airport" in March, according to Mexican astrologer Germano de Oliveria, who took a safer 50-50 chance when he predicted that Hillary Clinton would lose her bid to be U.S. Senator. He never mentioned the real surprise in the race: that Mayor Rudy Giuliani would drop out. "Three terrorists from the Middle East will be arrested at JFK Airport in April," police will discover a nuclear bomb in their baggage and President Clinton will go on TV "warning Americans that other bombs may have slipped into the country undetected," said Russia's Isabel Almazen. An earthquake will "destroy Los Angeles and San Francisco" in May, and President Clinton will go on TV in February to "announce that the Mars Polar Lander was destroyed by aliens" and that space "alien guests have already slept in the Lincoln Bedroom at the White House," according to Wanda Tarwinska."
Don't expect the editors of the Sun to start looking for psychics who can do their job. According to Emery these are the very same seers they polled for 1999: the ones who forecast that Mrs. Clinton would run for President; an earthquake would leave Los Angeles abandoned for two years; and John F. Kennedy Jr. would fly on the space shuttle with John Glenn-a prediction made the year Kennedy died in a plane crash.
"It wasn't just the supermarket tabloids that printed psychic forecasts without checking the reliability of their prognosticator," writes Emery. "The Toronto Sun featured Anthony Carr, 'the world's most documented psychic,' who said Christopher Reeve would 'rise from his chair and perambulate' and O.J. Simpson would either admit his guilt in 2000 or new evidence will prove that he is a murderer." Carr is the same psychic who predicted in the January 5, 1999 issue of the National Examiner that Muhammad Ali would make a miracle recovery from Parkinson's disease; an iceberg the size of California would threaten to wipe out Hawaii; and Carolyn Bessette-Kennedy (who died in the plane crash with her husband) would give birth to twins.
Sylvia Browne, frequently featured on the "Montel Williams Show," correctly predicted that Brad Pitt and Jennifer Aniston would marry, but then again the actors had been dating for two and a half years-more than enough mortal knowledge to broach an educated guess.
"Browne's web forecasts ( www.sylvia.org ) are open to multiple interpretations," Emery says. "But she didn't mince words with her presidential pick: 'Democrats will win the election with Bill Bradley, with close competition from the Reform Party.'"
Seeing that Browne missed the blockbuster battle between Bush and Gore for Florida's electoral votes, it seems that we should certainly trust a manual recount to divine the intent of voters from dimpled chads before trusting the likes of Browne and her fellow psychic prognosticators.
Skeptical Inquirer magazine is the official journal of the Committee for the Scientific Investigation of Claims of the Paranormal (CSICOP). Issued bimonthly, Skeptical Inquirer publishes critical scientific evaluations and informed discussions of paranormal and pseudoscientific claims.
Kevin Christopher
Public Relations Director
CSICOP/Skeptical Inquirer
P.O. Box 703
Amherst, NY 14226
Tel (Direct): (716) 636-1425 ext. 224
Tel (Alternate): (716) 636-1426
Fax: (716) 636-1733
E-mail: SIKevinC@aol.com
Kilde:
Para-nyt 2001 nr. 1