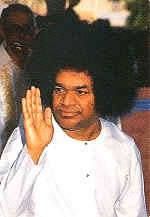 Britain may issue official warning against the godman

An exclusive report in The Times is causing new trouble for Sai Baba. It investigates the cases of three Britons, who suicided after getting involved with the Indian godman.
Michael Pender, 23, student, set his hope in Sai Baba's claimed capacity to heal him by magic: he was HIV infected. He lived for some time in the Puttaparthi ashram. Short before his death, he told friends that he had been repeatedly sexually assaulted by the godman. He was in a state of deep depression after these events and had earlier tried to commit suicide in the ashram. On 12 January 1999, he was found dead in a hostel for homeless in Highbury, London. Blood tests indicated consumption of alcohol and painkillers.
Aran Edwards, 37, classical guitarist and postgraduate theology student at the University of Wales in Newport, joined Sai Baba's Bristol group and started writing numerous letters to the guru. On 19 April 1999, he hanged himself from the staircase in his home in Cardiff.
Andrew Richardson, 33, South Africa born British national, made a pilgrimage to Sai Baba's ashram, booking in for a week, but mysteriously leaving after only two days. On September 19, 1996, he traveled to Bangalore and jumped from the eighth floor of the highest building, the State Bank of Mysore.
All this may not be enough to book Sai Baba for inciting suicide. There have been other suicides and suspicious deaths earlier, which did not cause any official reaction. Even when in June 1993 four of his close devotees (allegedly trying to assassinate him) were mysteriously shot dead in his bedroom and rumors of sexual abuse were palpable, he was not even questioned by police. More than judicial consequences, Sai Baba may face a further serious blow against his reputation by the new revelations.
Reacting to the Times report, the British Foreign Office has started to study Sai Baba's activities and considers issuing an unprecedented official warning against the guru, sources say. Sai Baba's critics in Britain urge their government to follow the French example. In June 2001, France has passed a new law to protect its citizens from dangerous cults like Sai Baba's. This law makes any physical, mental or monetary exploitation of people in vulnerable situations a criminal offence.
Sai Baba's holy façade started crumbling, when the spell of his miraculous capacities was broken. This was the work of Indian Rationalists. As a result of decades of investigating, exposing and campaigning, the miracle man stands exposed as a trickster.
"…The Indian Rationalist Association, an organisation of atheists and doubters which seek to debunk organized religion and disprove all miracles … denounce him as the biggest fraud of the `god-industry'", says the Times report. As an example for the simple tricks behind the Baba's "miracles", it describes the meantime famous Doordarshan episode, which – as part of the documentary Guru Busters – has been telecast around the world. ( Guru Busters is a documentary on the work of Indian Rationalists made by Channel IV of Britain in 1995. See also the article No more holy ash – Rationalists' campaigns exposing Sai Baba show results in Bulletin # 8 , 27 March 1999).
Mounting allegations of sexual abuse of devotees are slowly catching up with Sai Baba. After his former American follower Tal Broke published the Avatar of Night as long ago as in 1976, a growing list of victims have come out publicly, opening the flood gates of cases. They include both, Indians and foreigners, but all of them are living abroad. So far no case has been registered against Sai Baba in India. It is still not very easy to accuse or arrest a man, who counts several former presidents and prime ministers among his devotees and commands an army of top bureaucrats, businessmen and media persons.
In September 2000, the controversy surrounding Sai Baba took a new turn: several cases of sexual abuse of minor children of devotees became public and threatened to end his divine career behind bars (see the article Now it is Sai Baba's turn! By Sanal Edamaruku in Bulletin # 53 , 29 September 2000). But once again Sai Baba managed to keep his head above water.
Saibaba's short affair with the UN, which had promised to uplift his international credentials enormously, ended with a bang. The UNESCO, the educational and cultural agency of the UN, showing a grotesque lack of reasonable criteria and balanced judgement in selecting partners, announced to co-sponsor a conference on "Strengthening Values Education" at Sai Baba's headquarters at Puttaparthi last year, but was quick to quit the co-operation, when the scandal of sexual child abuse broke in September. It remains a remarkable mockery to elevate a notorious trickster and spiritual fraud as a kind of UNESCO advisor and specialist for educational values, even if the additional aspect of child abuse was not involved. The UNESCO had a narrow escape, but the damage was already done.
Sai Baba's "Human Vales Education" program has become something like an international hit and has been exported into hundred countries. On the base of this program, promoted by two Sai Baba charities, schools are run all around the world. In Britain alone, Baba's "human values" are currently adopted as part of the national curriculum and taught in 500 schools. Now authorities are suddenly concerned about the guru's "infiltration" of the British school system. In Sweden, Sai Baba schools have started closing down.
Kilde: Para-nyt 2001 nr. 5. Fra: Rationalist International Bulletin no. 76, 3 September 2001
www.rationalistinternationel.net
Suicide, sex and the guru / by Domenic Kennedy. – The Times 27 August 2001
http://www.thetimes.co.uk/article/0,,7-2001295208,00.html
[*]