af Mogens Winther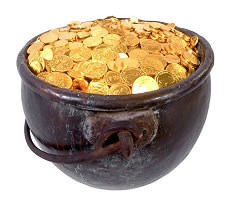 1.1 million dollars?? – no thanks, "Do not contact me again…"
An interesting discussion between the amazing James Randi and the ISBA business astrologer Karen Boesen.
---
Letter 1
Subject: The Million-Dollar Prize That No One Wants!
Resent-Date: Mon, 12 Jan 98 21:34:45 +0100
Date: Mon, 12 Jan 1998 15:32:38 -0500 From: James Randi To: Morten Bonde Petersen CC: Karen Boesen , Mogens Winther
To: Morten Bonde Petersen, Karen Boesen, and Mogens Winther
From: James Randi, president of the James Randi Educational Foundation, USA.
Dear Folks:
This letter is essentially directed to Ms. Karen Boesen, chairperson of The International Society of Business Astrologers in your country. The other two addressees are included in order that they may be informed of this official notice.
I wish to inform Ms. Boesen that the standing US$1.1 million prize offered by this Foundation (see the JREF web page at http://www.randi.org for details) will of course apply to the claims being made by her in regard to astrology, particularly "business" astrology. Ms. Boesen will be aware of my long-standing offer, since she reports it on her own page, under "Challenge to Astrology."
The problem that I always encounter with the situation is trying to get the astrologers to agree to actually be tested. One would think that with such a sizeable and guaranteed prize available to The International Society of Business Adtrologers — simply for establishing that they can actually do what they get paid to do professionally — there would be a great clamor to be first in line for the test. That is never the case, and the shyness of these claimants can only be explained, in my opinion, by the fact that astrology does not work, and the Society is aware of it.
The excuses the offer are many. "I'm too busy serving my clients and helping humanity. And, I don't want the money" is the one that is most often given. My response is: "Surely you can take a few hours from your busy schedule to pass the simple test, and donate the $1,100,000 to feed starving children, or to help AIDS research?" Or, we are offered, "You would not conduct a fair and honest test." I answer, "You will be asked to participate in designing a test that we will all agree on, in advance, one that will show clearly whether or not your claim is valid. It will be a double-blind test, one in which no person can affect the outcome except by your powers being applied." Then, often heard from astrologers, "This science cannot be tested. It's a unique case of a special nature." Nonsense. Anything can be tested. We don't understand gravity, but (a) we know it works, and (b) we can test it, easily.
As you may know, I have conducted tests of astrologers, psychics, dowsers, and others, for many years now. Not one of them has ever been able to succeed. The results are always what we would expect by blind chance. In the UK, a few years back on a TV series I produced there, a prominent "financial astrologer" was tested against a regular professional financial advisor, and myself — and I threw darts into a stock-market page at random. The professional advisor did well, I did a little better, and the "astrologer" — who still continues today in business advising his duped customers! — lost money on his forecasts made by astrology.
Though Ms. Boesen is well aware of the JREF's well-publicized prize, I will clearly state here my formal offer to The International Society of Business Astrologers: If the best of your astrologers can pass a simple, logical, clearly-defined, test of a basic claim made by astrology — a specific claim which can be offered by you, as an experienced and knowledgeable astrologer, or any astrologer chosen by you — the James Randi Educational Foundation of Fort Lauderdale, Florida, USA, will pay The International Society of Business Astrologers (or any person or persons designated by the Society) the sum of
One Million, One Hundred Thousand, American dollars,
in accordance with our offer as outlined on our World Wide Web page, http://www.randi.org. In addition, I will agree to appear at a public forum named by you, and assert that The International Society of Business Astrologers has established the value of the ancient art of astrology as a means of aiding business professionals to conduct their work efficiently and productively.
In the unlikely event (judging from my past experience!) that my offer is accepted, I am prepared to test your claims, in the presence of the press, Mr. Winther, and his students, asking their help to design and administer the test in co-operation with neutral referees.
I frankly expect to witness the frenzied objections and feverish expostulations of the astrologers of Denmark, who I'm sure are wishing that I would simply go away. In this "new age" of wanton acceptance of pseudoscience and quackery, I predict — without any pretence of having mystical powers! — that the Danish astrologers will try to ignore and reject this offer. They have no other choice, since astrology is a spurious claim, a blatant hoax, a useless vanity. The public — and now, even the leaders of industry! — deserve to know the truth about the "art" known as astrology.
I look forward with great interest to learning of the response — if any — of Ms. Karen Boesen, and of The International Society of Business Astrologers.
(Since "biorhythms" is also popular in Denmark, and has no more basis in fact than astrology, my offer also applies to that form of swindle, as well.) James Randi
James Randi Educational Foundation 201 SE Davie Blvd., Fort Lauderdale, FL 33316-1815 U.S.A.
phone: +1 954 467 1112 fax: +1 954 467 1660 http://www.randi.org
---
Letter 2
Subject: The International Society of Business Astrologers
Mon, 12 Jan 1998 17:33:10 -0500 From: James Randi
To: Morten Bonde Petersen CC: Mogens Winther
Gentlemen: This is the response I just received from Karen Boesen, in answer to my formal, official, offer from the James Randi Educational Foundation. I believe it expresses the whole situation completely. Ms. Boesen obviously feels threatened by the truth, her worst enemy.
If astrology, and particularly the work and product offered by "The International Society of Business Astrologers," can offer no evidence that astrology is genuine, if they say that their claims cannot be tested, if they avoid even discussing the possibility of a simple, direct, valid test, and if they can refuse a prize of over a million US dollars, I strongly suspect that their claims are without substance. The product they are selling their customers, may be without value. Is that an infraction of Danish law?
In accordance with her stated wishes, I will not contact Ms. Boesen again.
James Randi
Forwarded Message ———- From: Karen Boesen, INTERNET:Astrolog@post5.tele.dk TO: (unknown), INTERNET:randi@randi.org DATE: 1/12/98 4:53 PM
RE: The International Society of Business Astrologers Sender: astrolog@post5.tele.dk Received: from alterdial.UU.NET (alterdial.UU.NET [192.48.96.22]) by hil-img-4.compuserve.com (8.8.6/8.8.6/2.9) with ESMTP id QAA07941 for ; Mon, 12 Jan 1998 16:53:02 -0500 (EST) Received: from mail-in1.inet.tele.dk by alterdial.UU.NET with SMTP (peer crosschecked as: mail-in1.inet.tele.dk [194.182.148.158]) id QQdybf22433; Mon, 12 Jan 1998 16:52:58 -0500 (EST) Received: (qmail 19435 invoked from network); 12 Jan 1998 21:52:30 -0000 Received: from post5.tele.dk (194.239.134.168) by mail-in1.inet.tele.dk with SMTP; 12 Jan 1998 21:52:30 -0000 Received: from karenboe ([194.239.169.134]) by post5.tele.dk (Netscape Mail Server v2.02) with SMTP id AAA29456 for ; Mon, 12 Jan 1998 22:52:28 +0100 Message-ID: <34BA8FFB.1915@post5.tele.dk> Date: Mon, 12 Jan 1998 22:49:47 +0100 From: Karen Boesen X-Mailer: Mozilla 2.02E [da]-TDK20 (Win95; I) MIME-Version: 1.0 To: randi@randi.org
Subject: The International Society of Business Astrologers X-URL: http://www.randi.org/ Content-Type: text/plain; charset=us-ascii Content-Transfer-Encoding: 7bit
Do not contact me again!! Karen Boesen
— end —
---
Irrespective of this polite (?) answer by the ISBA founder Karen Boesen, the kind 1.1 Mio Dollar ISBA-offer by mr. James Randi is still valid. However, so far – not one ISBA astrologer has expressed any real interest in demonstrating the true value of business astrology.
Please also notice the article by James Randi – Jan 2002 – which has made the ISBA even more upset …
Astrology and Gravity
What are these astrologers afraid of? Mrs Boesen webpages even states:
"It is obvious that it works in practice, but you do not know why. This also applies to astrology. Finally it had never been the theory that determinated the empiricism. The gravity existed and worked every time, also before we became acquainted with gravity. "
Let us take a closer look at the stellar fantasy world of these astrologers.
October 1999. ISBA president Karen Boesen invited business people to an stellar conference at hotel d'Angleterre, probably the most exclusive hotel in Copenhagen. The predictions given by prominent ISBA Board Member – Bill Meridian however appear not to be worth the expensive conference fee.

Mr Bill Meridian during this conference (re the newspaper "Information" – Oktober 6, 1999) told the audience that he was absolutely sure – that a specific stock market company would be rocketclimbing to millionaire status during the year 2000.
However – this was not the case. This astrological stock market goldie turned out become one of the 10 worst investments that year (quoting the leading newspaper Jyllands Posten – Dec 30 – 2000).
Irrespective of repeated requests – ISBA president mrs Boesen has not been able to tell us what actually went wrong.
Eclipsing Nostradamus
You all remember the Eclipse 1999 Nostradamus Panic – where several astrologers expected nothing less than Doomsday. At the webpages of the former ISBA (ex-) vicepresident Henry Weingarten – one could read the following amazing prediction:
"The most unusual astrology pattern of the last 2000 years is the August 18, 1999 Grand Cross astrology pattern, with the planets aligned in an unusual cross shape, a week after a solar eclipse over Europe. This could mean a great disaster for the world, possibly a major war in Europe, possibly even a nuclear war, (which would therefore have an impact on the world economy)…. "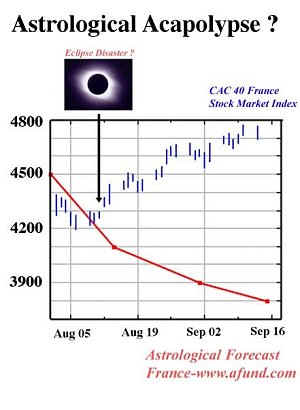 Mr Weingartens pessimistic stock market prediction is marked with red at the figure to the left – the real stock market trend is marked with blue.
How come – that these stellar predictions are so different from our reality here on Earth? As John Moseley asks :
"If astrologers are so good, why aren't they rich?"
The Los Angeles Times, December 28, 1995, reports on page 1 that the treasurer of Orange County, California, used an astrologer and psychic to guide the county's investments. He lost $1.6 billion and bankrupted the county. Why aren't he, the astrologer, and the county rich?
Election, Denmark, 2001
November 2001: The Danish parlament elections did end up in the biggest disaster since 1920 for Denmarks long serving government party – the Social Democrates.
However – while the Social Democrates were still leading within the opinion polls – ISBA President Astrologer Karen Boesen gave the following wonderful prediction (quoting directly from the webpage by the Danish Astrological Association – public bulletin board letter by mrs Karen Boesen – (October 07 2001 – 01:07 ) . Thanks to Palle Madsen for pointing this out):
"Social Democrates. : Looking at the horoscope within the light of the oncoming election – this actually does not look so bad. If this was a company – (and this is actually what I do have expertise within) which should sell a new product – I would so definitely recommend them to bet on an election – a launch of their product – in November December, because there are no significant / negative transits within that period. .."
However – real life apparently does not listen to the stars. As written above, the Social Democratic Party suffered its worst election disaster in more than 80 years!
ISBA president Boesen has not been able to explain what went wrong in this case either.
Despite all these disastreous predictions, Mrs Boesens does not hesitate to offer her services to superstitious companies. Please notice the amazing chapter "Analysis" on her website.
In several articles, published in the Danish Magazine "Horoskopet" and on the homepages by the Danish Astrology Association, Mrs Boesen explains about her ability to select the right person among several job applicants.
Let us listen to a few examples – published by mrs Boesen.
Concerning persons and companies born within Scorpio:
"Underground activities of any kind are defined as the Scorpions territory.

The Banking World thus naturally enters the scene. Intelligence Services , Police of Economical Criminality , Spionage and Detective Agencies just to mention a few – would be very typical.

Also the mortician business is to be found within the sign of destruction.. "
Within the stellar phantasy world of mrs Boesen, even companies have horoscopes. A company is typically born at the first public reception. Concerning "fish" companies, Mrs Boesen tells us:
"Fishes : Soap Operas, film and music may be mentioned as some of the art directions which inspire this kind of enterprises, where sense of reality has poor conditions."
Summer-Winter 2001
The ISBA president Karen Boesen and other members appear quite upset due to a recent Finnish law regulation – with possible international impact.
On June 08, 2001, the Finnish State President Tarja Halonen as well as Minister of Work Tarja Filatov on behalf of the parlament officially signed Law #477/ 2001 concerning worker protection. This new law demands that employers only apply trustworthy test methods while e.g. interviewing job applicants.
The official supplements to this law directly mention that
"graphological, astrological and similar test methods have to be abandonned."
In addition, the Finnish authorities refer to an internationally accepted declaration by the ILO declaration – by which no test is to
"be conducted against the worker's will . ….. "
that these tests have to be
"validated…"
– and ….
" In this regard, the use of astrology, graphology and the like should be precluded. "
You may order the full international declaration from the International Workers Organisation.
Jon Blumenfelds test suggestions to the ISBA – so far also refused:
"I discovered a few things – they don't like James Randi, they don't like Shawn Carlson, and they don't know how astrology works, but that doesn't bother them very much."
John is member of New England Skeptical Society, and has written several interesting articles on business astrology.